Aloo Paratha (Stuffed Potato Flatbread)
Aloo paratha or stuffed potato flatbreads are something that I grew up on, this is a typical traditional weekend lunch dish. My mom makes savory parathas with a number of different fillings such as ground beef, cauliflower or diakon raddish. This may sound super weird but I used to eat any kind of savory paratha by dipping it in sweetened yogurt. There;s just something about the creamy sweet yogurt mixed in with the spicy savory paratha that's purely magical.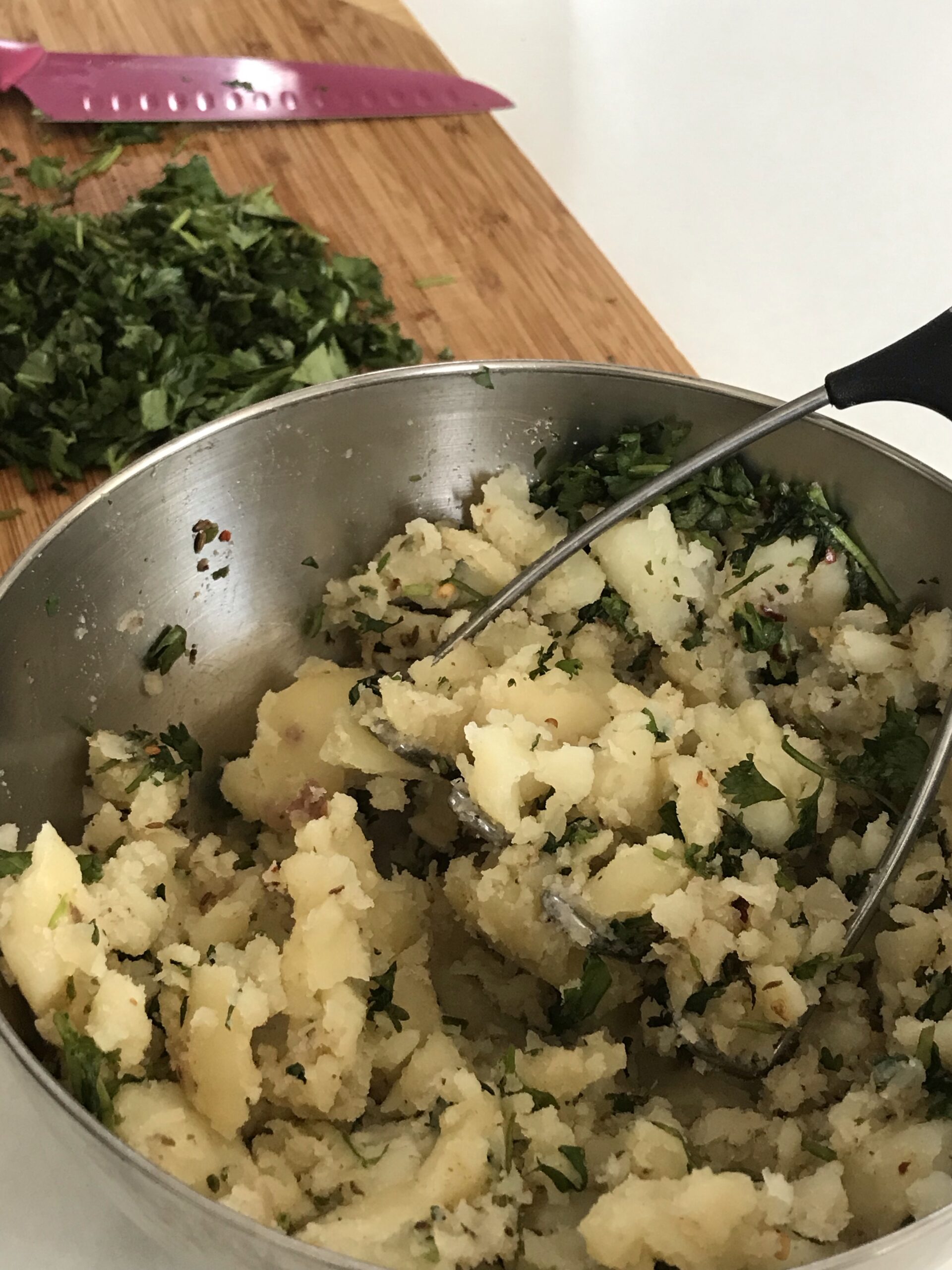 test
There are multiple ways to stuff the flatbreads, I like to roll out two small balls and then add the filling in the center, seal the edges all the way around pressing the dough with my fingers, and then rolling it out a little more so that it's nice and uniformly circular.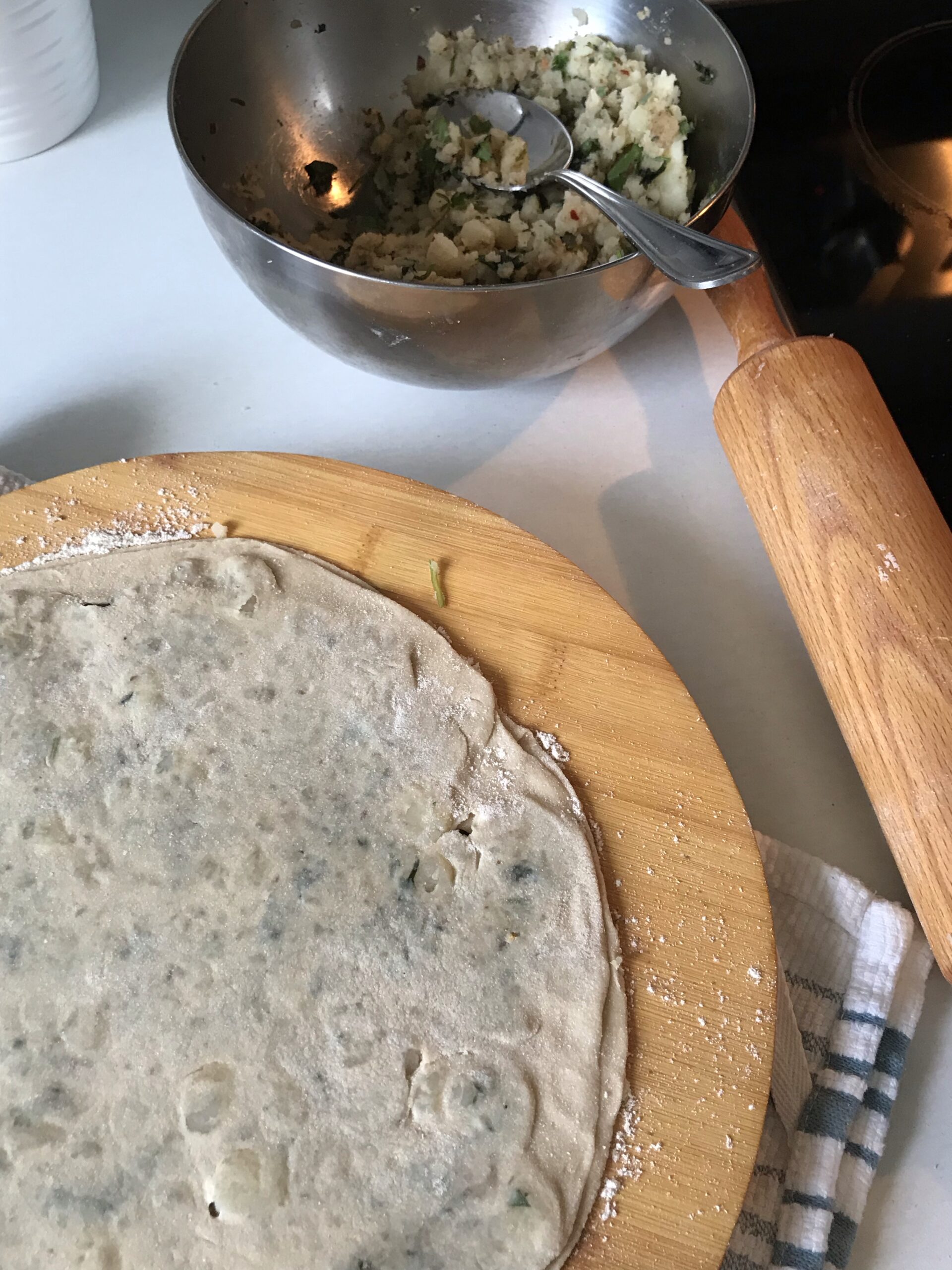 Aloo Parahta
Tasty Indian vegetarian potato flatbread recipe
Paratha Filling
3 to 4 medium potatoes (boiled and mashed)
1 to 2 green chilies (chopped finely)
¼ to ½ tsp red chilli powder (optional)
¼ to ½ tsp garam masala powder
½ to 1 tsp amchur (dry mango) powder (optional)
1 tsp whole cumin seeds
2 to 3 tsp fresh coriander leaves (finely chopped)
1 tsp salt (or to taste)
oil or ghee (for frying)
Flatbread Dough
2 cups whole wheat flour
½ tsp salt (to taste)
1 tbsp oil or ghee (clarified butter)
1 lukewarm water (might need slightly more or less)
For the Filling
Boil potatoes covered in water on high until they're tender, strain, cool and peel the potatoes.

Mash the potatoes to a smooth consistency (make sure there aren't any clumps as those will tear the dough).

Add the chopped green chilies, garam masala, red chili powder, dry mango powder, cumin, and salt.

Mix together well then check the flavors and add more salt or spice to your taste.
For the Dough
In a separate large bowl mix the flour with the salt.

Make a well in the center of the flour and add in about 1/2 cup of water. Mix it together and start to knead the dough adding little bits of water at a time until it's incorporated and soft but not mushy.

Knead the dough until it stops sticking to your hands, that's when the gluten strands have formed nicely.

Cover and let sit for half hour.
Rolling and stuffing the paratha
Pinch two small balls from the dough. flatten and dust with whole wheat flour.

Using a rolling pin, roll each ball individually into about 4 inch circles trying to keep both relatively the same size.

Put a spoonful of the potato mixture in the center of one of the flattened dough circles.

Place the second circle on top making a sandwich and then using your fingers press around the sides to seal them and then flatten the top.

Dust some flour on the stuffed paratha and roll into a round circle of about 7 to 8 inches in diameter or about the size of your pan.
Cooking the parathas
Heat a heavy cast iron skillet or griddle to medium high.

Place the stuffed paratha in the pan and rotate occasionally until the bottom starts forming some light brown spots.

Flip the paratha and spread some ghee on the partly cooked side, rotate pressing down with a spatula until the second side is fully cooked (the brown spots are a little darker and no raw dough is visible).

Flip the paratha back onto its first side, add ghee and rotate and cook until both sides are cooked through.
Any extra dough or stuffing can be kept in the fridge for a few days to make more parathas later.
Cooked parathas freeze well too.
Recipe adapted from Veg Recipes of India
© Ammara Cokar 2020